Last week I was invited to the town of Sainte Pierre de Varennes to teach a Chinese calligraphy workshop for both schoolchildren and adults (Side note: for those of you who don't know, I took private calligraphy lessons for a year. Big shout out to my loashi, Haishan Lai!). The village center of learning is unique, with two classrooms housing the entire elementary school. This scenario has become very familiar to me over the last year as France is full of small towns whose populations cling to their village identity. While it might be more efficient and cost-effective for these towns to operate joint institutions, no town wants to be the one to give up their own school, no matter how small the student body.
As a parent in Sainte Pierre de Varennes explained to me, "for us, the school represents the center of activity in our town". In this case, I'd have to agree. The school is housed within the local mairie (town hall). The two classrooms encompass the ground floor, while the library (run by volunteers and open three days a week) occupies one room on the second floor, followed by an office for the town hall, and a general meeting room. In a village where more than half the population is retired, the school represents both fresh energy and a nostalgic emblem of the past.
Each classroom is a mix of three grade levels. That's a total of six grades, thirty-two students, and two teachers. Not exactly overcrowded with a mere average of five students per grade level, but the principal (and upper level teacher) Catherine lamented the fact that so much time goes into lesson planning. When I first learned of this small school and their fierce struggle to maintain it, I wondered if the students wouldn't be better off in a neighboring district. There, I thought, they might have access to enriching programs and cultural activities that bypass a two-room school. I don't have a conclusive answer to give, but I did observe some nice aspects to their closely-knit school that I can share to counter balance the argument. Students are extremely well taken care of in Sainte Pierre de Varennes. With such a small student body, there is a lot of individual attention given, and no one seems to be left behind. The age rifts that one finds in a normal sized school are non-existent in Sainte Pierre, and the students mix very well with their older and younger peers. Bullying would be impossible in such close quarters.
I had been invited to Sainte Pierre de Varennes on behalf of the library, but as my sponsor Anne Brehier is also the mother of a young student, we developed my workshop in conjunction with the school. I spent two afternoons there. Tuesday was a general lecture day; I talked about Asian culture and my experiences in Japan. On Thursday I was greeted by a bowing chorus of "konnichiwa!!". The students were really geared up that day because the school had sponsored an Asian lunch, during which they each received a pair of chopsticks. One little girl told me, "it took a long time to eat with those!". Finally we got to try our hands at brushes and ink! I taught some simple nature words because the characters aren't that complicated, and kids usually like the theme. For several hours we practiced writing mountain, river, sun, moon, earth, forest, and the four seasons. In the evening I returned to do the same things with adults. This workshop was sponsored by the library and the Women's Craft Guild. It took place in the town hall's meeting room. The ladies got frustrated with the complexity of Chinese brush technique (it's pretty hard to pick up in one workshop!), but I think they had a good time.
Franck and I were enticed by the natural charm of Sainte Pierre de Varennes, a heavily agricultural area with rolling farm land and plenty of hiking trails. This weekend we returned to do some walking and take photos. Besides the mairie, the only other landmark of note is an old church with an interesting roof structure. Over the entrance there's also a carving I like that looks a bit naif (thus the reason I like it).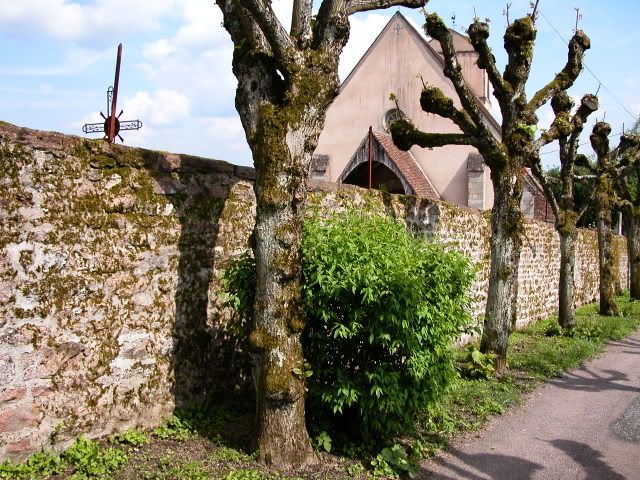 We spent the rest of the time talking to cows, goats, and horses. Thanks to Franck for letting me use his photo of this gorgeous goat.